Bild: © Gerd Pfeiffer
Sweet Years – 13.10.2018 im Backstage (Halle)
Friends Lovers Rockers Dancers
Showtime!! … am Samstag 13. Oktober 2018 … BLOW THE TUBES Classic Rockshow  im Backstage
SWEET YEARS
… to come … sweet years to go … der Soundtrack ist entscheidend … make it loud … rock the rhythm …
… please welcome to the Show: New-School-Rock Support … THE UNIVERSE …
Link zur Veranstaltung – Backstage München (Halle)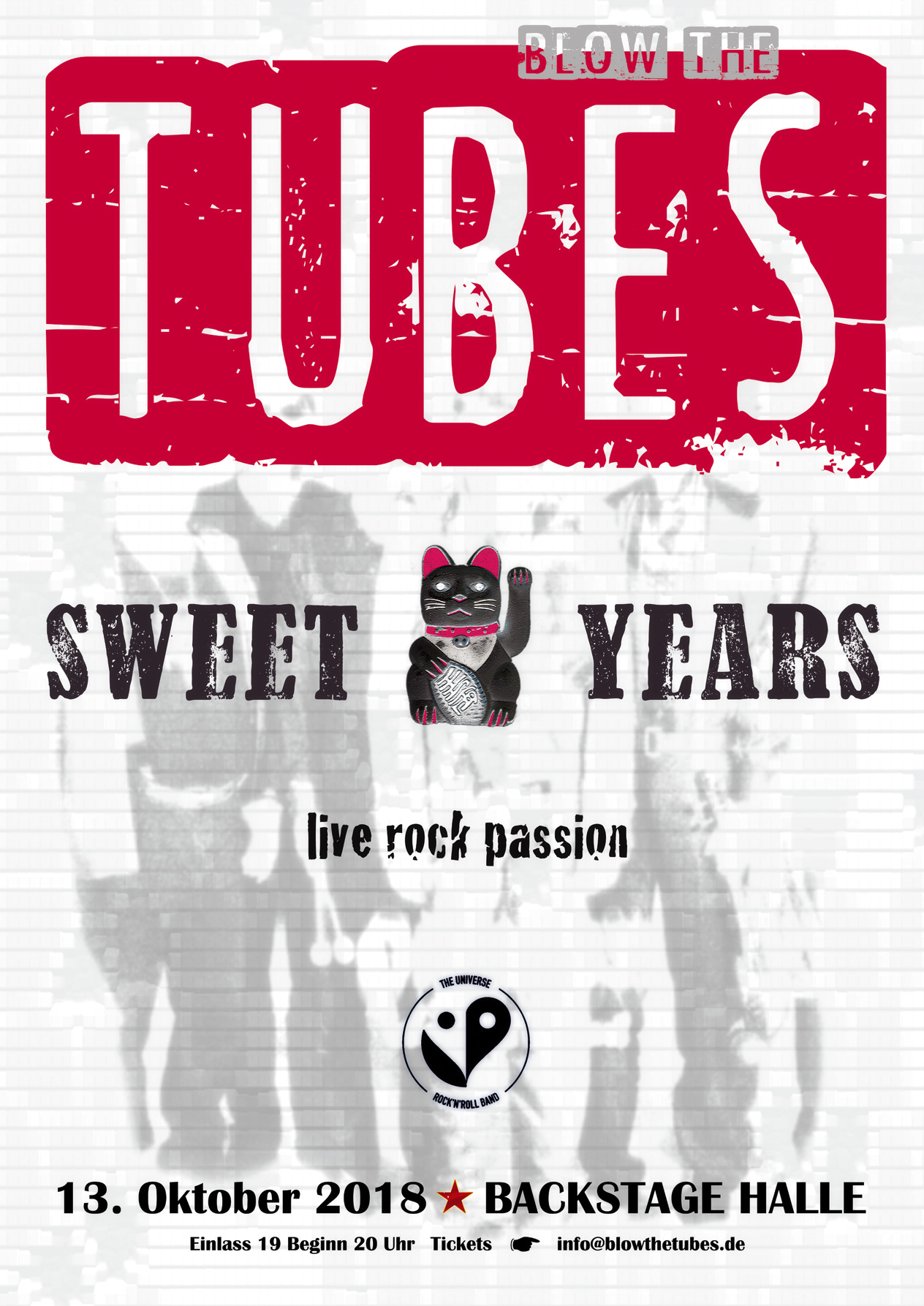 Der aktuelle Soundtrack bietet unsterbliche Covers und eigene Songs – Stoff für Herz, Bauch und Beine. Die TUBES bringen wie gewohnt Überraschungen auf die Bühne, versprochen! Freut Euch auf die Performance des Frontstage-Duos Veelim und Diana und der außergewöhnlichen Vokalistin Julia … surprise! Abrocken ist Pflicht an diesem Abend … we will rock you.
Den Abend eröffnen die jungen Wilden THE UNIVERSE: Rock, Grunge, Funk … kompromisslos … the future … Make Love to the Universe!
Thank you for coming! 
Welcome to the show rockers and dancers, friends and lovers, brothers and sisters!
Music never stops!
We love you!
## Samstag 13. Oktober 2018
## Backstage – Halle – Reitknechtstr. 6 – 80639 München
## Einlass: 19:00 Uhr – Ticket 15 Euro
Wir machen den Ticketvorverkauf selbst, deshalb fällt keine Vorverkaufsgebühr an. Bitte sendet einfach eine EMail an info@BlowTheTubes.de mit der Anzahl der gewünschten Tickets und der Adresse, an die wir die Tickets schicken sollen.