startete seinen Go-live am 9. Geburtstag von Freddie Mercury. Schon als Kind mutierte er zum Zappelphilipp, wenn Musik zu hören war. Statt Noten zu lernen, ließ er sich die Hausaufgaben von den Kumpels vorspielen und brillierte im Unterricht als Solist – bis ihn ein auf dem Kopf stehendes Notenblatt verriet und für den Rausschmiss sorgte. Goodbye Blockflöte und Akkordeon. Woody war nun der Vollblutautodidakt am Schlagzeug. Sein erstes echtes eigenes Schlagzeug verdiente er sich als Tankwart und stieg gleich als Drummer der Schulband Flash of Lightning ein. Er kannte anschließend nicht nur alle Getränkekarten der Schwabinger Livekneipen sondern war auch bei Auftritten der großen Stars der Rockära und im Musicland-Studio von Giorgio Moroder unverzichtbar. Für die Jazz-Organistin Barbara Dennerlein gab er den Sparringspartner am Schlagzeug, sang und swingte mit ihr als DUO Little Music Company.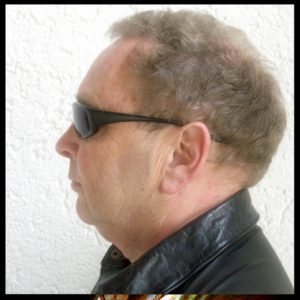 Das erste große Konzert, ein Faschingsdienstags-Open-Air in München mit 4000 Zuhörer gab Woody 1975 mit der Partyband Sunny Six. Auftritte in fast allen Münchner Konzerthallen und Eventlocations folgten. Woody war allgegenwärtig zu dieser Zeit, am Mikro, an den Drums, am Keyboard, an der Percussion. Woody sang sich durch Deutschland, Österreich und die Schweiz … in Bayerisch, Kölsch, Deutsch, Englisch und Italienisch … ein Alleskönner in Duos, Trios, Rock-, Party- und Coverbands und einer veritablen Bigband!
Genug der Worte! Welcome to the show, folks!
Bevorzugte Musik:  Deep Purple, Foreigner, Kansas, Led Zeppelin, Manfred Manns Earth Band, Queen, Santana, Supertramp, The Stones, Uriah Heep
Bevorzugte Instrumente: Percussion-Instrumente – last but not least the human voice
Bevorzugte Fiktion: The Knick – Thank you Thack!
Bevorzugtes Essen: Gutes, selbstgemachtes Essen meiner Frau Martina
Bevorzugte Ideen: moving on with Blow The Tubes
Musikalische Sternstunden: Ich liebe das Publikum, die Zuhörer, wenn es so richtig mit geht und Spass hat!