BLOW THE TUBES blasen wieder zum Angriff! Am 7. Oktober ist es soweit. Die Neuauflage der mitreißenden und einzigartigen Rockshow geht dann wieder über die Bühne: SYMPHONY – der Name ist Programm.
Link zur Veranstaltung – Backstage München (Halle)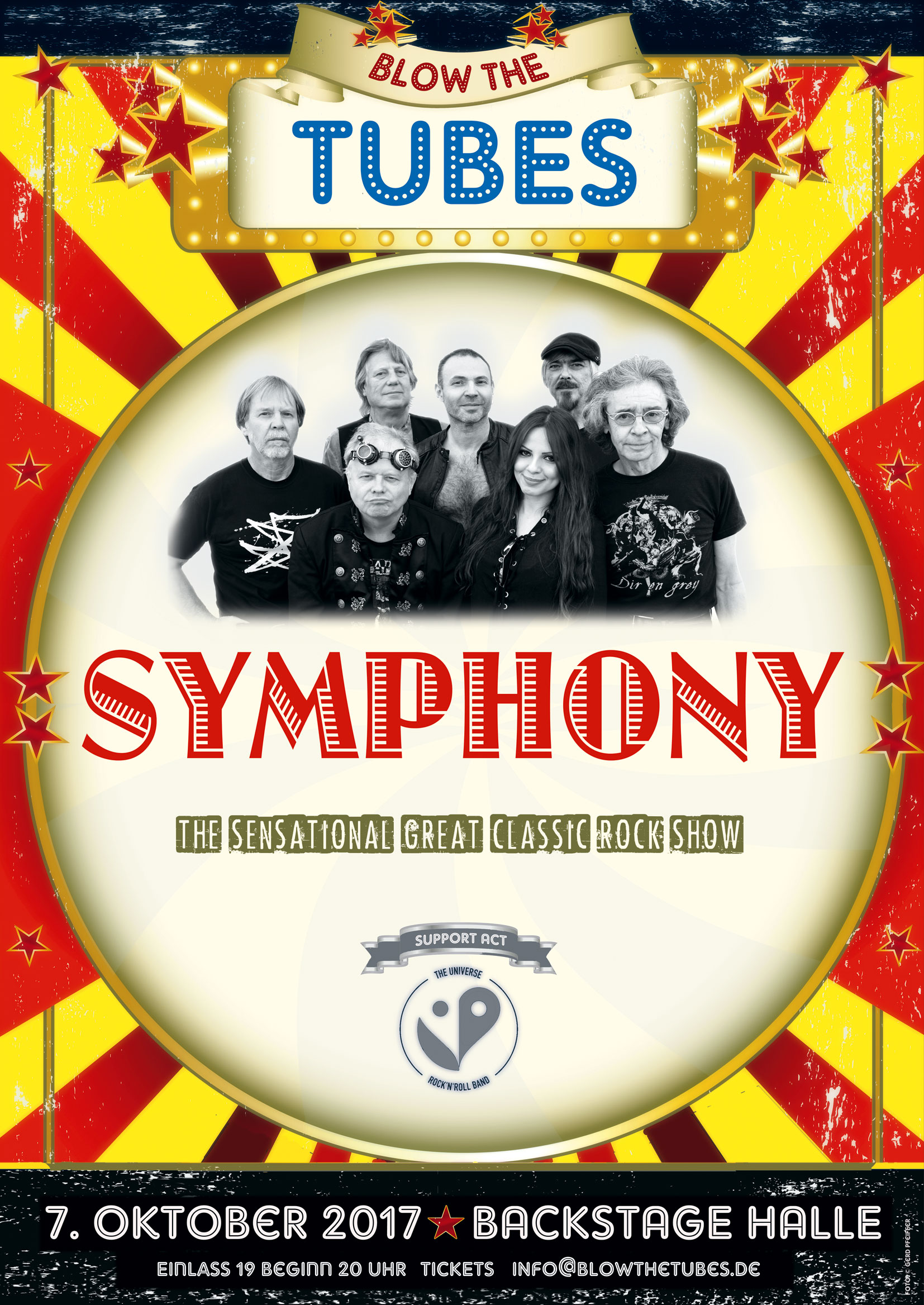 Auf der Setliste stehen eine neue Auswahl unsterblicher Covers und eigene Songs – in jedem Fall Futter für Herz, Bauch und Beine. Die TUBES haben wie immer einige Überraschungen im Gitarrenkoffer. Veelim und Diana sind die neuen Frontvokalisten der TUBES: ein kräftiger Bariton, der mitten ins Herz trifft, und ein Sopran mit italienischem Kolorit, der höchste Höhen mühelos meistert. Außerdem können Sie mit musikalischen Gastauftritten rechnen. Es wird ordentlich abgerockt an diesem Abend, versprochen! Die vibrierende Energie, die diese Musik erzeugt, wird die Welt für jeden ein klein wenig besser machen – unvergesslich, herzergreifend, belebend, mit kompromisslosen Beats.
Den Abend eröffnet Rock 'n' Roll von THE UNIVERSE: Drei junge Wilde um Gitarrist Stefan Deimel präsentieren eine Mixtur aus Rock, Grunge und Funk. Ungeschliffen und absolut authentisch zeigt das Trio, wie man sich Rockmusik aus dem Bauch heute vorzustellen hat: Hardrock inklusive Song- und Funkwürze – solider zeitgemäßer Querdenker-Rock`n-Roll. Make Love!
Thank you for coming! 
Welcome to the show rockers and dancers, friends and lovers, brothers and sisters!
Music never stops!
We love you!