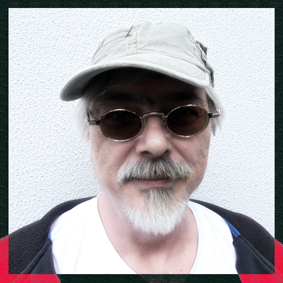 Niemand weiß warum, und doch freute man sich über seine Ankunft im Jahr Shōwa 27 bzw. 2612 (Kōki). Dasselbe Jahr, in dem die Oper Trouble in Tahiti uraufgeführt wurde und auf dem Eniwetok-Atoll eine Wasserstoffbombe hochging. Er wählte den Weg des angewandten technischen Wissens und dachte seit frühester Jugend darüber nach, warum ihm die Sterne am Himmel nachts nicht auf den Kopf fallen. Mit der Klärung dieser Fragestellung belästigte er irdische Koryphäen der Physik und der elektrischen Technik. Er beschloss dann, einen heute weitverzweigten Clan mit Menschen und Katzen zu gründen und schuf sein eigenes Universum aus Nullen und Einsen.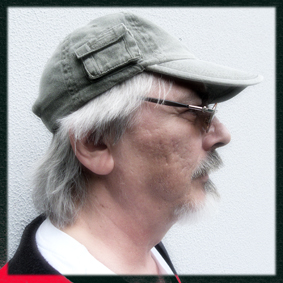 Nachdem er mit 15 zunächst mit Gitarren- und Basspielen sein Umfeld erfreute, spielte er bis Shōwa 45 (Kōki 2630) harten Rock mit der Formation Andromeda, unter anderem mit dem Keyboarder Rolf Hennicker und dem Gitarrengenie Fuzzy Holesch (†). Und bis zum Jahr Shōwa 55 (Kōki 2640) war er die treibende Kraft am Bass bei Pallas, mit Mannix am Schlagzeug und Amadeus W. Schubert an der Gitarre. Er studierte und jobbte drei Jahre im Münchner Music-Shop, war Stammgast auf den Konzerten der befreundeten Bands Chidley Group und BluePower und schlug sich ein Vierteljahrhundert mit Firma, Arbeit und Familie herum … born in! Doch eines Tages fiel es ihm wie Schuppen von den Augen: Music never stops! … burn on man!! Mannix nickte und sagte, "wir machen das" … time to break out … blow the tubes dude …
Bevorzugte Musik: Deep Purple, Manfred Mann, Led Zeppelin, Uriah Heep, Cream, Status Quo, Queen
Bevorzugte Instrumente: Bass, Hammond B3
Bevorzugte Fiktion: BlowTheTubes, live on Stage
Bevorzugtes Essen: Reis mit Käsesoße
Bevorzugte Ideen: Take it easy
Musikalische Sternstunden: Andromeda 1969 in den Gewölben in Salem (Bodensee), 30 Minuten In a gadda da vida stoned.